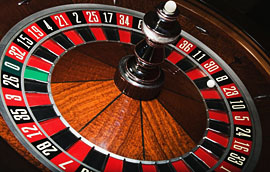 When it comes to playing online roulette, there are many different games available. Oftentimes the biggest difference is the bonuses, the graphics, and the sounds. But there is one actual difference that determines your chances of winning – do you play European Roulette or American Roulette? The beauty of playing online is that you can make the choice yourself.
Exploring the odds
The biggest difference is the inclusion of zero or double-zero. The European version (sometimes referred to as French Roulette) includes a single zero. The zero has a green color on the table and it is referred to as the "house number." The reason it has that name is that it gives the house a slight edge when playing roulette.
If you were to bet on red or black without the zero, the odds that the ball would end up on red or black would be 50/50. Because of the addition of the 37th pocket that the ball can land on (the zero), it gives the house a slight advantage when you are playing roulette. In fact, the house advantage is 2.7 percent thanks to the little zero.
What is the difference?
The largest difference between American roulette and European roulette is that American roulette has an extra green color slot with double zeroes. This increases the odds in the favor of the casino even more. There are no benefits to playing American roulette. Normally players would prefer European Roulette because there is a better chance of winning. Especially considering roulette is a game of chance, it should come as no surprise that most people prefer the version that gives them the better odds.
The choice is yours
The differences between the two games are relatively minor. Even the percentage is not large enough to where it would make European and American roulette shatteringly different games. In the end, it is your choice to decide what you want to play. Normally North American players would be stuck with playing the American Roulette version, but nowadays they have the chance to play whatever version they want, thanks to online casinos.