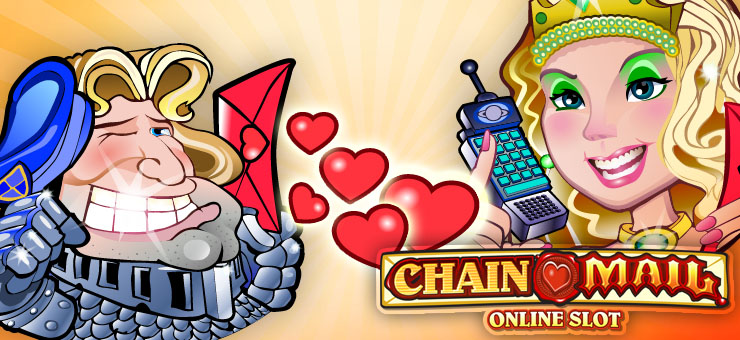 There are just some genres of online slot that seem to work better than others do. Sometimes an eclectic mix is going to present a fun game that you might not have assumed would be fun to play – the latest offering from Microgaming – Chain Mail – certainly falls into that category.
There is certainly some intrigue when playing Chain Mail, because you are off to search for Princess Roxy. However, there is a healthy dose of humor infused into the game, which really makes it stand out from many of the other offerings that we have seen before.
More about the base game
There are 20 total paylines and 5 reels when playing Chain Mail. The entire game is certainly colorful, because the cartoon graphics are going to show a great deal of humor and detail. Set against a backdrop of fortified castle walls, the game certainly adds a great deal of humor to go along with its seriousness and winning potential.
The castle bonus – the bonus ground
The scatter symbol for the game is the drawbridge for the castle, and if you manage to trigger this mini-game, you are going to be in for a great time. However, you do need to land a scatter on reels one, three, and five on the same spin before you are able to enter into the bonus round. You will then proceed onto a different screen for the bonus round where you have five rows of seven doors. Starting from the bottom, you have to click a door on each level.
Each of the different doors has a money amount to it, or you might find Uncle Mordread or Princess Roxy behind the doors. You definitely want to find Princess Roxy, because she is going to give you every single prize available on that level. However, if you happen to stumble across angry Uncle Mordread, you are going to leave the bonus round and be kicked straight back to the base game. You will keep your winnings, but your bonus round is over.
The graphics and sound
When looking at/listening to Chain Mail, you are going to be impressed by how much fun it looks and sounds. The game really plays smoothly and the comic strip graphics make you feel as though you are watching a cartoon. The game does not take itself too seriously, and it shows in the final product. Even though you are able to win some serious coin with this offering from Microgaming, the game itself certainly lets you feel comfortable with what you are doing.
The verdict
It is certainly worth playing Chain Mail, because even if you are going to bet low stakes, you still have a chance to get some good winnings. Because there are more paylines, it also means that you have more chance of winning big. Because of the interesting bonus game and interesting blend of genres that it offers, we know that Chain Mail is going to be a massive hit with the online gambling community when it comes out next month.